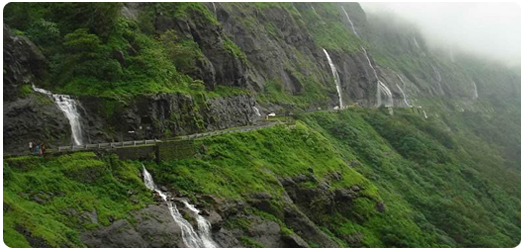 Activities in Malshej Ghat
Being a hill station Malshej Ghat has a fair list of outdoor activities. Adventure enthusiasts can check out the lovely peaks and forests through trekking on Harishchandragad Peak. If you are with your family, take the kids out for a nature walk in the verdant forests surrounding this hill station. You can explore this beautiful place by walking through the mystic forests. Plan a short picnic and spend some time relaxing in the lap of nature in Malshej Ghat. At night, sit around the bonfire in the resort grounds and swap stories with friends and family.
A sightseeing tour of Malshej Ghat is particularly recommended during the monsoons when the falls become more tempestuous and the rain freshens everything in sight. If you are brave enough, get under some of the waterfalls the spray will definitely revive you. Trek into the forest surrounding Malshej Ghat that bear tall stately trees, which are a wonderful sight to behold.
The Harishchandragad Peak (1424 mts) is a favourite with trekkers. It is unique because here lie the semi-circular rock wall of the Konkan Kada.
Pimpalgaon-Joga Dam is a long bund, which blocks the Pushpavati River that springs out of Malshej Ghat and creates a lake in the monsoons. Several species of birds including the alpine swift, purple moorhen, pitta, quail, whistling thrush, green pigeon, pied crested cuckoo have been spotted by ornithologists around the dam.
Honeymoon couples can spend hours together on the banks of the many monsoon filled lakes in Malshej Ghat. And do the done thing in Malshej Ghat - spend some time watching the antics of the flamingoes in season.