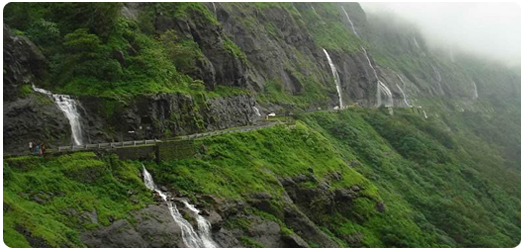 Malshej Ghat Traveller's Info
Malshejghat is a hill station and also a popular tourist spot located in the Pune District of Maharashtra. Malshejghat is surrounded by covers of dense green forests and the Western Ghats, which is why there are many varieties of flora and fauna available here.
One of the rare attractions of this place is the Flamingos that can be seen near the areas of the Monsoon lakes. Malshejghat offers opportunities for adventure sports like trekking, hiking and boating, as the region is located at a height of 700 metres above sea level.
Monsoons are considered to be the best time to visit Malshejghat because the hills are covered in green during this time. The weather of the region is mild from the months of August and September. The region becomes misty during the winters especially the forest regions. It is during the same time most of the bird watchers come here to conduct researches on rare varieties of birds such as Quails, Rails, Crakes, Flamingos, Cuckoos, etc.
Malshejghat does not have a train station either, and the nearest train station is in Mumbai, located at a distance of 115 kilometres from Malshejghat. There are three train stations in the Mumbai region and that are Mumbai, Mumbai CST and Mumbai Bandra terminus.