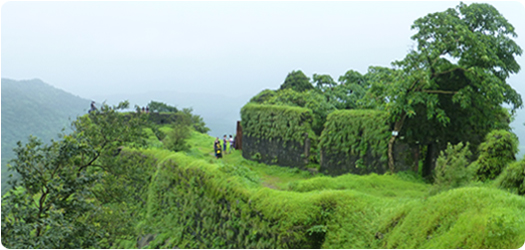 Activities in Karnala
For activities in Karnala just slip into your most comfortable walking shoes and explore this lovely sanctuary on foot. Trek through the picturesque hills while trying to spot a variety of flora and fauna.
The 4.5 sq km bird sanctuary is a rich natural habitat for around 150 species of birds. The Red Vented bulbul, hornbill, myna, owl, and paradise fly catcher can be easily spotted here. Beyond the sanctuary lies many other places of interest like the ancient temples and the Karnala Fort. Adventure enthusiasts can also enjoy trekking and rock climbing.
Rock Climbing
The steep rock in the center of the Karnala fort offers visitors a great opportunity to try their hand at rock climbing. One can enjoy breathtaking views from the pinnacle of the rock.
The small climb to the Karnala Fort from the bird sanctuary is extremely enjoyable during Monsoons, especially early monsoons. You can see plenty of waterfalls, rich canopy and thick vegetation that make the climb extremely pleasant. The three-kilometer climb in itself is not strenuous and even a first timer can leisurely complete it in less than two hours. The view from the top provides a panoramic view of the Sahaydri Mountains. You can spot Haji Malang and Matheran. While you are at the fort, you might be tempted to climb the thumb shaped mountain, but that would need expertise and is not for amateurs.
Shiva Temple
There is a famous Shiva temple near Karnala, built in the shape of shivaling in 1060 AD. This is one of the temples where both cults of Vaishnavites and Shivaites offer prayers. The temple is thronged by the devotees on Shivarathri day.