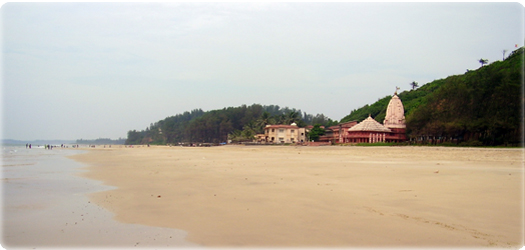 Activities in Ganapatipule
Things to do in Ganpatipule
Ganpatipule is the perfect place for a relaxed holiday. If you are looking for things to do in Ganpatipule, the obvious would be chill and relax on the beautiful beaches, feel the spray of the water on your face, watch the beautiful sunsets and have a moonlight picnic on the silvery sands. If you are the adventurous kind, then spend some time soaring up paragliding into the blue skies above. Explore the little hamlets in the vicinity and if time permits and it is mango season, do make a trip to nearby Ratnagiri to buy the most delicious mangoes on earth: Alphonso
As you can see at Ganapatipule you will find many things to do or is you are so predisposed - do nothing at all!
Festivals & Events in Ganpatipule
A good time to attend the festivals in Ganapatipule is during Ganesh Chaturthi, which typically occurs in August/September. During Ganesh Chaturthi festival, the idol of Lord Ganesha is taken out of the temple accompanied by a pujari or priest and a drummer.
Eating Out in Ganpatipule
One can sample traditional Maharashtrian food at the restaurants in Ganpatipule. Traditionally the locals served home cooked food to all the weary pilgrims that serve local home cooked food to all the weary pilgrims that visited the temple and this ritual was encouraged and promoted by the Maharaja of Baroda who would reimburse the people for their efforts in serving the pilgrims.
Shopping in Ganpatipule
Wondering what to buy in Ganpatipule? Try the local markets that will offer you a lot of household and decorative items made of sea shells. Take back home cashewnuts and kokam sherbet, which are available in plenty here. You can buy a whole lot of canned mango chutnies and pickles too.
If you are there in the season you would not want to go back home without buying a crate of Devgad hapus mangos!