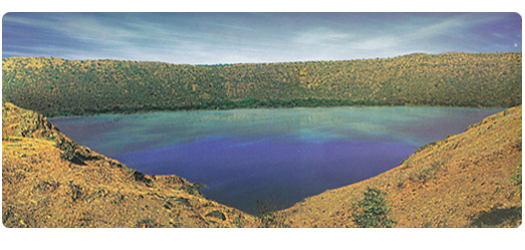 About Lonar
Lonar is the pre-historic site of a meteor which crashed on earth some 50,000 years ago and formed a large crater (few hundred meters in diameter) in the ground. Though there are other impact craters in the world but this one is the only in basalt rocks. The pH value of water in the lake which has formed in the crater is 10.7 which points to its alkaline nature. There are no living organisms in the lake and even trees whose roots get into the lake water die.
This site is must visit for scientifically inclined and for others just for curiosity sake. The lake is beautiful and its first look will surely take your breath away. It is best enjoyed before sunset. One could go down upto water level and experience the water which is harmful. There is also a temple of Kamalja Devi at the edge of lake. Apart from lake one could visit Daityasudan Surya temple which is a small ruin of Khajuraho like temple. Gaimukh is a perennial source of fresh water with some masonary work done by Peshwas to channelize the water.
Motha Maruti is a Hanuman temple built around a magnetic rock supposedly formed from meteor effect. One could visit the retired principal of the local school who accompanied various scientific expeditions in the region, including the one by NASA and has some research material with rock samples.