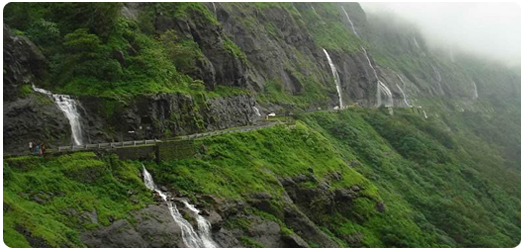 Malshej Ghat - Places to Visit
Falmingo Hill Resort:
This place takes its name from the ?amingos that visit the many lakes each monsoon. Trecker's can have a whole day exploring various mountain trails which wind through fragrant forests, past placid lakes and rolling valleys. For the spiritually inclined there's Ozar and Lenyadri. where two Ganesh temples are located.
Bhimashankar:
The temple at Bhimashankar houses an ancient shrine dedicated to Shiva. Being one of the twelve Jyotirlingams (shrines) sacred to the deity, it is an absolute must-see for everypilgrim. On Mahashivratri day over 20.000 devotees attend a religious fair in the town and pass through the tempIe's beautifully carved wooden doorwayto pay obeisance to Lord Shiva.
Besides the Shiva Temple, the Bhimashankar Sanctuary (home to the Giant Squirrel) is another attraction - not to mention various sightseeing points like Bombay Point. Gupt Bhimashankar (the source of the Bhima River), Hanuman Tankand Nagphani Point (Duke's Nose).
Harishehandragad:
The foundations of this fort were laid in the 6th century during the Kalachuri dynasty. It has evolved over time and reflects the architectural styles of various cultures, including the Mughals and the Marathas.